Mr. NAJI JAOUAD
TEACHER & FRIEND OF ENGLISH
-ALLAL LOUDIYI HIGH SCHOOL-
FEZ

"I am always learning, the tombstone will be my diploma."

---------------------------------------------------------------------
MOCK EXAMS FOR STUDENTS OF SECOND BACCALAUREATE:
Mock Exam 1
Mock Exam 2
Mock Exam 3
Mock Exam 4
Mock Exam 5
Mock Exam 6
Mock Exam 7
Mock Exam 8
---------------------------------------------------------------------
NEW:
Practise English Tenses
185 Topics
ALL FUNCTIONS of 2nd Bac.:
FUNCTIONS / COMMUNICATIVE PRACTICE
Look at this:

All Collocations of 2nd Baccalaureate.

Let's Communicate: Speaking about myself.
_______________________________________________
Knowledge Knowledge Knowledge Knowledge Knowledge
Article of the Day

Retroviruses
A retrovirus is a type of RNA virus that reproduces itself by transcribing its DNA into the genetic material of the host cell. These viruses are therefore used as vectors by genetic engineers to import foreign DNA into certain cells. Retroviruses sometimes destroy the cells whose DNA they alter, as with HIV, and sometimes cause them to become cancerous, as with the viruses that cause certain leukemias. What enables retroviruses to rapidly develop resistance to antiviral drugs?
More...
Discuss
This Day in History

La Marseillaise, French National Anthem, Is Composed (1792)
Written and composed by French army officer Claude Joseph Rouget de Lisle in 1792, La Marseillaise was adopted in 1795 as France's first anthem. Although it was then banned by Napoleon I, Louis XVIII, and Napoleon III, it was restored as France's national anthem in 1879. The evocative lyrics and recognizable tune of La Marseillaise have led to its use as a revolutionary anthem and have inspired many pieces of classical music and pop culture. What are some examples?
More...
Discuss
Today's Birthday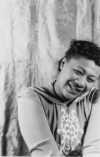 Ella Fitzgerald (1917)
After winning an amateur contest at Harlem's Apollo Theater in 1934, Fitzgerald started singing with Chick Webb's big band and soon became its star. She recorded her first hit, "A Tisket-A Tasket," in 1938 and went on to become one of the best-selling vocal recording artists in history and a 14-time Grammy Award winner. In 1960, she made a famous live recording in which she improvised new lyrics to a song after forgetting the original ones. The performance earned her a Grammy. What song was it?
More...
Discuss
In the News

Commuting Could Cause Brain Damage
Lab mice exposed to freeway particulate matter for 150 hours over the course of 10 weeks suffered significant brain damage, a finding that researchers say should open investigation into the effect these particles may have on people, for example students who attend schools situated near freeways. The mice showed significant damage to neurons involved in learningand memory, and there were signs of brain inflammation associated with premature aging and Alzheimer's disease.
More ...
Discuss
Quote of the Day

Considering how foolishly people act and how pleasantly they prattle, perhaps it would be better for the world if they talked more and did less.
W. Somerset Maugham
(1874-1965)
Discuss